Loren Victory
as published by Burleigh Longboard Magazine
A weekend trip and only one clean pair of underwear.
Plane leaves in one hour, fifteen and it's forty-five to the airport.
What do you do?
Buy more once I get there.
Right.
I'll be too drunk
and stoned
and lazy to actually do it and we hit the road once I land.
Won't happen.
It's looking like the same pair the whole time.
Think.
Think.
It's early.
I'm late.
Three minutes tossing through the hamper scrutinizing worn pairs like fruit at the market.
Scratch.
Sniff.
Hold a pair up to the light.
Shake for pubic hairs.
How'd this get in there.
I don't think these have been worn at all.
That makes two.
No time.
I'll be surfing and in shorts all day.
Who cares.
Let 'em hang.
Fuck it. Gotta go.
Scrap about $5 in change off the dresser,
scope the ID and ATM card and pocket the lot.
All I need is the board.
Everything else can suck it.
Shit.
Except the car key.
Fuck.
Where.....are....my....
......check my pocket from yesterday's jeans. Another $2 coin and the keys.
All good.
I don't remember the drive to the airport.
Just over 30 minutes.
How?
Driving by instinct.
The Force.
I could have killed six people or driven the wrong way on a one way and not known.
Check the news when you get home.
It takes me twenty minutes into the flight before I can relax. I was amped for the trip and the added adrenaline of waking up late and a high speed chase through dim-wit drivers had me passed eleven.
I was dialed up.
Only at altitude do I notice that the lady next to me is a full on soap dodger, or she'd been sleeping with farm animals for the last two weeks. I lean over into the aisle for relief. I notice a smallish man with the shortest arms I've seen, trying to put his carry-on luggage back into the overhead. He pushes it, hoping it will fall into place only to have it fall back into his childlike hands. Again. Once more. I notice the woman in the seat beneath unaware that her head is about to be crushed by two stone worth of ill-fitting clothes, cologne and pomade encased in cheap fabric and zippers that stick.
The short hop lands and the crisp air slaps me as I drag my board bag outside.
I don't wait long before Gibbo pulls up in his abused Land Cruisier. His smile is massive.
"Haha, mate. You look like shit. Strap it on and let's go."
Taylor is in the back already, sleeping like a baby.
"He was up all night. Heaps of folks at his place since yesterday arvo and the girlfriend is not happy."
"She never fucking is."
That gets a nod and we go.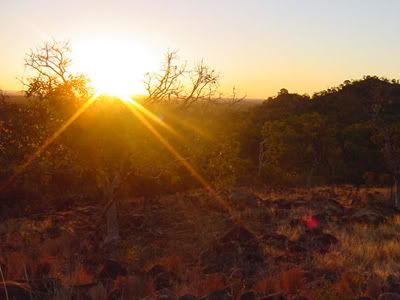 As we drive, I keep looking back at Taylor hoping he'll rise. Fuck his sleep. Birthday or not. I love Gibbo, but he's hard to take one-on-one for that long. He talks like a chainsaw and I need another pair of ears. When he's on a roll, it never really stops. Just gears down as it finds the next log to chew on.
Raaarararaaaaraarara ...raa...na..na..na.... raaarararaaaaaraaa...raa..na..na..na.
Two and a half hours of road that hasn't seen a maintenance crew in a decade and the last good bit through dust and shrubs. It's country I love to see. I've never seen this much. Everywhere you look.
Nothing.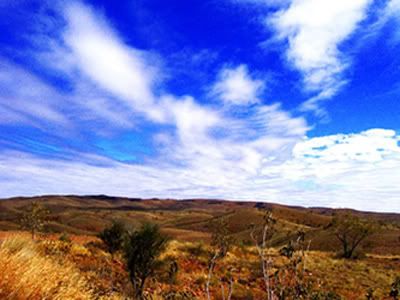 Gibbo delivers and we make the spot with enough time for a late day sesh. My ass is numb, my knees are locked and my back has me walking like a man of sixty. I gingerly follow Gibbo, who's already half way down the sand. He's always juiced. It's infectious. Like having Red Bull on tap where ever you go. I love that about him.
The wind is onshore and it's a bit messy, but nothing like getting hammered by tempermental surf to shake out the cobwebs.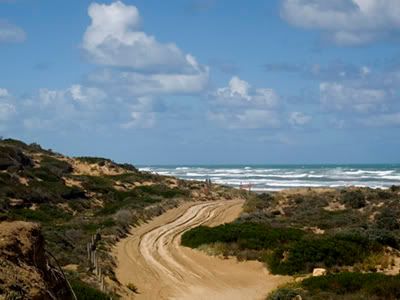 "Sloppy, huh." Taylor's swollen eyes stare out the front windshield as we arrive back at the truck. The moppy hair and grin of a stoned puppy. He's a head fake. Looks slow and dazed, but he is wicked smart and solid as. He'd do anything for anyone, but he'll give you enough rope to hang yourself and walk away.
He also taught more about surfing in the last year than I learned in the last ten.
The sun is still high. I grab the fish. Half way out to the break I know I'm in for a fight. A strong rip and some serious wash have me punch drunk before I've been to my feet.
I get broken on two waves that curl over with no warning and flick me off my board like a spider from a piece of wood. I get bumped off a third that has vicious chop as I drop down the face. I'm starting to get riled. Just before my head pops through the white wash, I scream underwater, "fuck!!" and get back on my board. I'm frustrated that the water isn't giving me what I want; one clean ride get me aligned, straighten my toes, bring me a smile.
It happens at times, doing what makes me feel most serene and at peace with life, I go the wrong direction and get all bent out of shape. Fighting the ocean, it's energy, it's life that is so much bigger than me.
But, it never takes me long to remember why I do this. Where I am. It's so easy to see how the negative doesn't fit here. It seems so out of place and never lasts long. It'll come. Don't fight. Like when you're being rolled around in the torrent, the never ending washing machine, not knowing which end is up. Always relax. Don't rush. Panic takes all your breath and leave you at the bottom. It's always better to stay calm. Let the surface find you. It all works out in the end.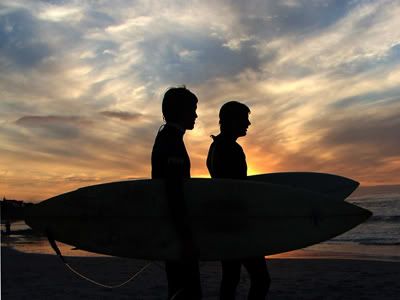 I get my wave and a few more. We are out of the water as the sun starts to sink into the horizon. No camp. No fire. We pull out our bags, find enough kindling near by and heat up food.
Big laughs, lots of tequila around a crackling fire under a cloudless night sky. We talk about nothing. We fart, pick skin off our feet, talk about women, define 'crazy', drink more tequila and beer, tell surf stories we've told many times before, discuss the plight of the Mentawais, ponder having kids, things we should have done, things we will.
Time for sleep.
My mind floats as I lay under the stars. It's cold, but not enough to keep me from a mental wander. I like the moments before I sleep. My dreams. My story. Not those of my demented subconscious. The body gets heavy. I can feel it. Narcotic. My pictures... moving. Sunrise, tomorrow. Perfect waves. I'm Joel Tudor. Then, I find her. Waiting. She is often there. In a hotel room, standing in the yard, falling from a bar stool, laying on a beach, covered in mud from head to toe. Don't go anywhere. Just like that. I laugh. Hear you laughing. It's warm. Everyday. Then I'm out.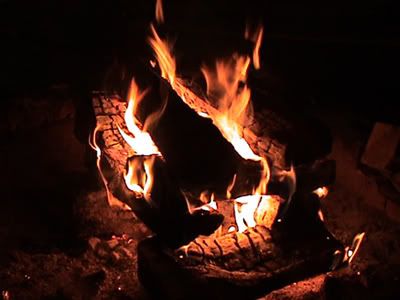 The morning is like once being blind and seeing for the first time. I was never conscious before now. This is the first day. My first day. It takes me a while to remember who I am and what I believe in. Like being reborn. It's quiet. The rocks are beautiful, the sand is perfection, the light is delivered. Heaven is damp and tastes of salt. But, does not include Gibbo's bare ass staring at me from across the ring of stones.
"Put that thing away you freak."
"Bite me."
I can smell the last bits of tequila floating from my mouth.
I can see it on Taylor's face.
"Fucking lovely, mate," he says slowly like it's made of glue.
It certainly is.
We find ourselves staring out to sea. We hear her voice. She calls. She cries. She flashes her generous bosom and we get up for a closer look.
She's peeling off thick four and five foot swells. Open ended like an uncurling flower and smooth as glass.
We stretch the sleep from our bodies and just watch the ocean.
And like that moment as you pull the sweater over a lover's head, you smell the beauty in what you're about to do, it fills you up and the certainty of it, the impending eventuality of it makes you feel alive.
For a moment life is distilled of madness, complication and all that which blinds us from peace. It's like the non-baited smile of a stranger on the street. I don't have a job, money is free, pain does not exist, I won't get old.
Today will be a good day.
I wish they all were.